So I made a last minute decision on Friday night to jump into the King's Mountain Half Marathon on Saturday the 1st. It was my wife's idea and it was a good one that I gladly accepted. She originally wanted to run the 5 mile race at this event while the baby and I cheered her on but other matters prevented her from being able to so she suggested I go run the half instead while she tended to her other commitments. I couldn't say no.
I was up at 7am and on the road by 8am. The race was scheduled to start at 9am in Huddart Park located in Woodside just west of Hwy 280. I live fairly close to Woodside so I got their pretty quick. Parking was easy. Registration ($55) was quick & easy and by 8:30 I was good to go. I did a few strides and some light stretching as I checked out the competition. It looked like some really fast guys showed up and I got pumped. My plan was to shoot out with the lead pack and then see who had the climbing legs on the way up.
Just shy of 2000' of gain on this course
Most companies that hold races at Huddart Park have a loop course that starts at the Werder Shelter, drops down the windy,single track Bay Trail and then meets up with Richards Road Trail. Envirosports is the only company that starts from the Meadows Picnic Area and immediately starts out on Richards Road Trail and their course is an exact out and back. The significance of this is that Richards Road trail is a wide fire road that is just short of a mile with mildly rolling hills. That means the race will start and end fast like a road run.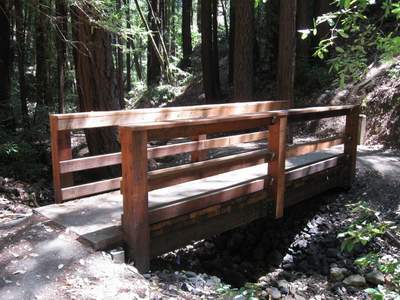 This bridge marks the start of the climb
The race started just as I thought, fast and furious. I settled into 3rd place and immediately knew that I could not keep this pace with the hill climb that was coming. Once the course turns skyward at around the 1 mile mark it does not really let up until you reach the aid station at the halfway point, 1800' ft above you. Some of the climbing is steep and some of it is a bit more manageable but after a few miles of climbing it really doesn't matter. You're just in a low grinder gear gutting it out. I eased up on the throttle in anticipation of this climb. One right after another people kept passing me by. I was certain that they would be walking up these hills while I cruised on by with my conserved energy. I was back to 10th place or so by the time we started climbing and never passed anyone on the way up! I was racing against a pack of Mountain Goats in disguise! I kept moving forward and I kept slipping places. I never walked a single step on these hills because I kept thinking I would pass those that flamed out. Problem was that they never even sputtered.
Kings Mountain Rd aid station turn around
Being an out and back course I started counting the people as they came back down the mountain. By the time I hit the aid station turn around I was, by my count, in 47th place! I immediately knew that these fools had burned everything out on the way up and that I would be crushing them on the way down. There is no way that they are both, fast on the uphill and fast on the downhill. Those are two completely different skill sets and I was ready to capitalize on my downhill speed. I spent 3 seconds at the aid station and headed back out immediately. I turned downward and let my legs go and settled into a 7:30- 8:00 minute pace. I was flying down super fast as far as I was concerned and yet I never caught anyone. In fact 3 people passed me. I could see, at certain points on the course, that the 10 places ahead of me were all separated by just a few seconds. I could see those racers in front of me flip flop places and I could see a racer or two behind me that was gaining ground.
We bottomed out onto Richards Rd Trail and reality hit me hard. I no longer had gravity working to my benefit and my legs were really beat up and tired. Others had to have this same shocking awakening, right? I bared down and pushed the pace as best I could. I kept turning up the heat until I passed a guy that use to be way ahead of me. He was the guy that was leaving the aid station when I was coming in at the top of the mountain. I kept getting glimpses of him from time to time during the previous downhill fury. Around the next corner I came up on two guys that were running out of gas rapidly. I passed them with just a few seconds of trail left to go and we all burst out into the meadows one right behind the other. The finish line was at the top of the hill where registration was this morning and people all up and down the hill started cheering for one of the guys behind me. I dug deep and pushed hard up that hill thinking that the cheering crowd was motivating the guys behind me. I literally ran through the finish and collapsed on a big log just off to the side of the course. I did not get passed so the 3 places I lost going downhill were reclaimed in the last mile. I finished 47th out of 118 overall and 6th in my age group at 1:56:15. The results can be seen
here
. Congratulations to Kevin Reese for the overall win at 1:30:34 and Hailey Manning as 1st female (4th overall) at 1:33:09
One thing that surprised me was that I achieved my sub 2 hour goal for 2014. I set this goal because a sub 2 hour half on the road has become the norm for me so I wanted that to be my norm for the trail half's as well. Even the really hard ones that have 3000' of elevation gain on them. This race had close to 2000' ft of gain so I did not expect to go under 2 hours. I thought it would be just over the mark with something like a 2:05:00. I was super happy with today's performance. I ran a very similar race out here last August and was almost 10 minutes slower on that day. That is an incredible improvement in my book!
Envirosports does not do Bay Area trail runs exclusively. They also put on swim events all over the country and even a couple triathlons and a duathlon. They are not as flashy as some event organizers. They have no start/finish line arch, no clock at the finish that I could see, no chip timing, no finishers medal and the food offerings are sufficient rather than decadent. I would love to have all of those "extras" at this race but will certainly live without them and continue to run this course simply for the course. Of all of the half marathon courses that run at Huddart Park, this is by far the best in my opinion. My wife might race in next weekends Angel Island event and if she does I will report back if it was as "no frills" as this event was.