Running Gear Reviews
(of products I have actually used)
First off I'll start by listing a few places to buy this gear. You should always buy your gear from a local, knowledgeable running store that hires actual runners. The reason for this is simple. I managed Footlocker shoe stores for a short while and I can tell you those people know very little about the shoes and even less about running. They know how to sell and will BS you all day long. Skip the generic sports chains all together. I suggest shopping at:
Zombie Runner- Palo Alto- Best of the Best for Trail Runners
San Francisco Running Company- Mill Valley- This is where top talent is spotted hanging out in the Bay Area. Nice selection of top tier shoes, excellent knowledge coming from people who know what they are talking about. This ain't Footlocker at the mall.
A Runner's Mind- Burlingame- Excellent Knowledge- Great Gear but limited
Specialty stores I have not personally shopped but have heard good comments about:
Trail Shoes

Road Shoes
Hydration
Fuel Belt Wedge- A small 7oz flask style bottle that can clip on to your waist band, waist pack or the straps of your back pack system. By itself its a nice insurance policy on a short run. When you just need a little more this bottle is the perfect way to EASILY expand your carrying capabilities. When I do a monster trail run deep into the woods for 3 hours plus I clip a couple of these onto my back pack system as a just in case back up plan. Really cheap and super handy.
Nathan 22oz Bottle Waist Pack- The Elite 1- Although my version of this pack is a bit older I can't tell you how much I love this pack. I freeze the 22 oz bottle, slip it into the insulated cradle and it stays cold for much longer than any other system I have used. Its light weight. It stores my Sports Beans and Gels and it has elastic straps to help you carry anything else you may need. It does not bounce around and the bottle slips in and out of the cradle very easily.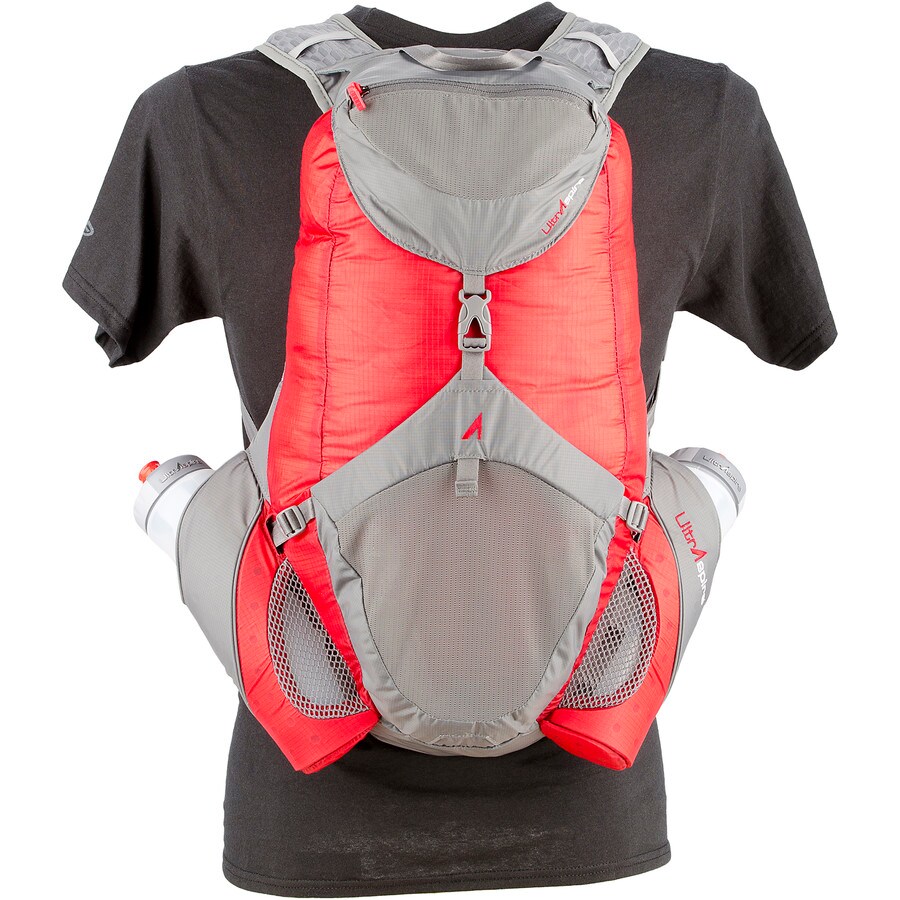 For a really long day(s) out on the trail
UltrAspire Fastpack- I love this pack. It is perfect for what I wanted and that is a long distance pack that could support me and my wife if we were out for several hours or maybe even several days with little to no refueling stations along the way. This pack is lite weight but roomy enough to carry sleeping gear, extra clothing and everything needed to cover serious topography. It has (2) 26oz bottles with finger loops for ease of handling. It has several places to stash food, ponchos, maps or whatever else you need to grab quickly in the woods. The electrolyte pocket has a magnetic closure and is water proof so you can carry salt pills or Nuun tabs right up front on your right chest muscle area. You can load a bladder system into the back of this pack if you want. I highly recommend this pack if your looking for a big one to carry lots of stuff. This pack is not meant for racing. That's a whole other category.
Heart Rate Monitors
Sportline Solo 900 Heart Rate Monitor Watch- This is as basic as it gets when it comes to HRM watches. This watch is a stopwatch and a HRM and that is the limits of it's functionality. If you don't need pace, distance, or cadence info this may be the watch for you. This was my first sports watch ever, it was early on in my running and I did not know what I did not know. I was attracted to this watches low price, less than $40 at Sports Authority, and I thought the one finger push button heart rate was cutting edge technology and the chest strap watches were dinosaurs on their way out. Wrong. The chest strap style will give a constant reading that will likely always be on display. With the ECG (electro-cardiogram) style watch the heart rate is only measured when you hit the button on the face and press the watch back into the top of your wrist so that the watch can measure your pulse. It is easy to get a reading if you are standing still but being on the move cuts that down to about 1 out of 10 tries you will get a reading to display. And that's after running with your finger smashing down this button for at least a quarter mile. You can not program the watch to beep to keep you in a particular heart rate. The watch will not start blowing all kinds of dixie if your heart rate goes too high. The Solo 900 will tell you the calories a 150lb male athlete burns when you push the button and get a HR reading. Without this reading the watch can not tell you the average calories burned for the average 150lb male athlete. The most accurate way to get calories burned per exercises is to take a reading at the beginning of the workout, in the middle of the workout and at the end of the workout. To get these 3 readings if you are on the move will require probably 30 attempts which means you will run the vast majority of your route with your finger on your wrist while starring at your watch and praying that you get a reading. Finally you will stop, take a reading knowing that it is inaccurate and unproductive to stop but you needed the reading so you could at least know a ballpark number on how many calories you were burning. This watch is simplistic in nature and unreliable for running and it is down right dangerous for trail runners to hold this button while looking at a watch waiting for a number to display. Because of the unbeatable low price I can see this watch being attractive as an entry level unit to get familiar with heart beat ranges while you cross train but that's about it.

Suunto Quest Running Pack- This was my next HRM system and quite a step up from the Solo 900. This is on the high end of the price range at $300 but you can pay as much as $600 for some models. The main reason I choose this model was the foot pod it utilizes rather than GPS. I have used a few GPS based apps on my smart phone and found that they drop out quite a bit in most of the woods I run in. The foot pod doesn't have that problem. Calibration is easy if you have a track, treadmill or other measurable distance you trust like a common route you run. Suunto (pronounced Soon-Toe) is known for its "comfort strap" on the chest strap style HRM. It really is quite comfortable with a barely there feeling. You will likely over tighten the chest strap so you feel it holding on. This is not needed. It will stay in place and you will barely notice its presence. This watch downloads all workout info via the Moves stick mini, a USB plug in that wirelessly receives the information and passes it on to your workout page on Movescount.com. Here you can see all of the data gathered such as pace, speed, heart rate, distance, duration, cadence, calories burned, recovery time needed or training effect. Averages of all of this data is available as well. I really pay attention to average pace and average cadence at the end of my runs. During the run I keep it on my current pace or total distance. Sometimes I choose a heart rate zone and tell the watch to alert me when I need to pick it up or slow it down to stay in this pre-determined heart rate zone. The watch can be customized to display different data depending on the workout you choose. I set up 5 workouts, J Run, Tr Run, Weights, Pilates, MT Bike. I don't display distance on a Weights workout. The watch is told to not search for the foot pod. Super customization is achieved by entering your age, weight, sex and activity level so that the data it puts out is specific to you. The only data it does not have is course route info. It does not draw your route on a map for you. It does not guide you back home like some GPS models do. It does not have a compass and it does not have an altimeter. For me I have all that I need and would emphatically recommend this watch. It must be calibrated. A high school track works best. Just like a GPS watch it can be off by as much as 3% on a long run. If you run a known 20 mile route your watch may say anywhere from 19.4 miles to 20.6 miles. Accuracy among all brands and all models is generally believed to be within this 3% margin.
Miscellaneous Favorites