I've been preparing for October all year long. The Brazen Ultra Half Series comes to an end with the Rocky Ridge Championship race on October 4th. Sasquatch is also closing out their year with the mega popular Honey Badger Half at China Camp State Park (last I heard this was close to sold out). Save a beer for me! Bummer I can't run Skyline to Sea again this year. That is a great race with really nice views. There is about 15 races to choose from this month and they are spread out all over the area and every distance from the 2 mile to the 50 mile is available. You gotta love the choices in the Bay Area. See you out there.
October 4th-
Rocky Ridge
- Ultra Half Series Championship, Half Marathon, 10k, 5k
October 5th-
Whistle Punk Half
- Half Marathon
October 11th-
Dick Collins Firetrails 50
- 50mi
October 11th- Golden Hills Marathon
October 11th-
Skyline to the Sea Marathon & 50k
October 11th- Well water for Africa Adventure Race at Almaden Quicksilver Park
October 13th- United Mt Diablo Athletic Association 5K
October 18th-
Coyote Ridge Trail Run
- 50k, Marathon, 20mi, 10mi, 7mi
October 18th-
West Coast 50k
October 18th-
Los Vaqueros Tarantula Run
- Half Marathon, 10k, 5k, Kids Scramble
October 19th- San Bruno Mountain 5k/12k
October 25th-
Napa Wine Country Marathon, Half Marathon & 10k
October 25th-
Stinson Beach
- 50k, 37k, 25k, 14k
October 25th-
The Honey Badger Half
- Half Marathon, 10k, 5k (SAVE $5 WITH CODE: SFTRAILS)
October 26th- Lafayette Resevoir Run- 10k, 5k, 2mile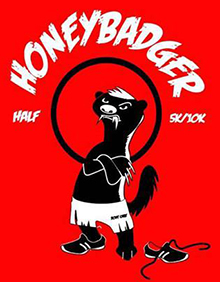 http://www.sasquatchracing.com/the-honey-badger-half/
We know you'll be thirsty, hungry, and tired on 10/25 after conquering the badger's race. That's why we're hooking you up with
ZICO Coconut Water
and beer from Marin Brewing Company! The post run spread will include Brownie Brittle, OneBars, and
Somersault Snacks
! To boot, we'll have oranges, peanut butter pretzels, and m&ms. For your tired muscles, PSOAS Massage/Bodywork will work out the kinks!