Fall trail racing is the best!
My racing so far this year started out with a marathon and two 50k races in the late winter & early spring. After a lot of high mileage training and racing I needed to back off for a while. My high mileage racing was followed by a 10k and three trail half marathons in the late spring & early summer. Now that this lower mileage cycle is done and my life outside of running has calmed down a bit, I am excited to get back to the longer trail races that focus more on strategy than speed. I have three races I have picked out for the fall trail racing season in the Bay Area this year and the first one is fast approaching.
Berkeley Trail Adventure Elevation Chart
First up is the Berkely Trail Adventure put on by
Inside Trail Racing.
This race is Saturday Sept 28th in the Tilden Regional Park in Berkeley. The elevation gain is 4600' ft and comes mostly in 3 big chunks. The first 5 miles is all up hill. The next 10 miles is mostly downhill and then flat with a mile long hill in the middle of that stretch. The next 2 miles is a steep climb that is about as extreme as it gets. From there its about 4 miles of downhill to the finish. This seems about average for the bay area race scene in terms of climbing on the course so I'm not to worried about that. It will be a nice way to get some hills into my race season and it is the perfect distance for me to transition out of all that fast half marathon work I've been doing and move more towards the pace control side of trail running. I've increased my mileage over the last six weeks averaging around 45 or 50 miles per week with only about half that amount coming from hills. The last 35k race I participated in was the Grizzly Ryder in April of 2012. I ran a 4:12:00 on that course and I think I am a much better runner now so the goal is sub 4 hour. That calculates out to an 11 minute pace and seems very possible. If I pull it off that will be a great way to kick off my fall trail racing season!
Next up will be the Skyline to Sea Marathon put on by
Pacific Coast Trail Runs.
This race is just a couple weeks after the Berkeley race on October 12th starting at the Saratoga Gap trail head located at the corner of HWY 9 and Skyline Blvd. This is a point to point course starting up at the ridge of the Sant Cruz mountains and running down to the Pacific ocean. Although it is a net downhill and that presents its own challenges this course does have over 2000' ft of elevation gain. Of the 3 races, this will surely be the easiest. My goal for this one will be a sub 4 hour race. I think that's pushing it but achievable.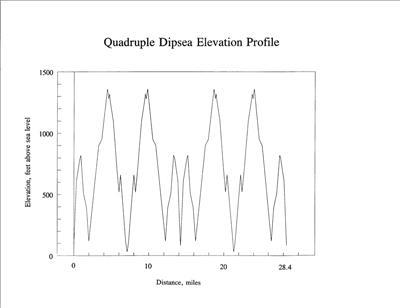 The last race of the three will be the grand pubah. The other two were just training runs to get me ready for the
Quad Dipsea!
I made it into the race by registering within the first few minutes that the race opened up. It sold out quickly and the waiting list already has 69 people on it. This looks like it will be both my shortest ultra and toughest to complete. It is 4 passes on the Dipsea Trail starting in Mill Valley and turning around at Stinson Beach. The total distance will be 28.4 miles and the elevation gain will be a whooping 9276' ft. That's well more than the 7000' you get from a typical 50k in the Bay Area! One pass of the Dipsea trail has 688 stairs broken up into 3 flights. Multiply that x4 and you can see why this race is considered exceptionally difficult. The current course record holder is Leor Pantilat finishing in 3:48:58. He took it from Erik Skaggs, Jenn Sheltons better half for you ultra fans out there. They have swapped the record back & forth a couple of times over the years. Both are super fast runners so if that's the best; I'm guessing I can pull off about 6 hours. Seriously. That would put me in the top 25% and be a very respectable time as far as I am concerned. If you study the results from past races it looks like the average finish time is around 7 hours.
This ramp back up to the longer more strategic races will likely lead me to another 50k in early 2014 and then maybe a 50 miler! That's a lofty goal but who knows I just might make it there someday. Look for my race reviews on these and see if they sound like something you might want to run.
See you on the trails
Jonathan