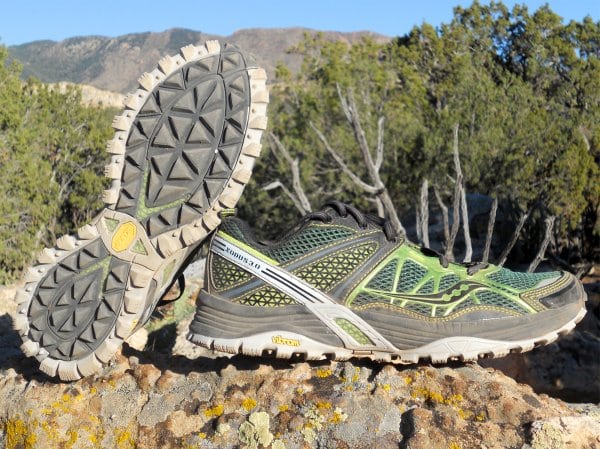 Saucony Progrid Xodus 3.0 from 2012
Original article written: Fall 2012
Saucony Progrid Xodus 3.0
- Another hybrid shoe in my arsenal that works really well on both roads and trails. I have a few combo routes that I like to do that keeps me from driving to the trails and this shoe fits that bill perfectly. I think it is a little more trail than it is road and that's a good thing (see NB Minimus).
Saucony Progrid Xodus 3.0 from 2013
This shoe is considered a minimal shoe because of its 4mm heel-to-toe drop. This shoe is considered to be on the heavy side weighing in at 11.2oz but I honestly never felt the weight. The shoes seem light to me??? The Xodus 3.0 gets a bit of its weight from the full length rock plate that runs just under the outsole of the shoe. I have almost 300 miles on these shoes and have yet to have a problem with rocks or roots poking my foot. The lacing on these are flat laces with some elastic built into them and they work really well. Once tight & tied these shoes will not come untied on you and the little tongue pouch to tuck the laces in is a nice touch to keep from tripping. I am very satisfied with the fit & feel of this shoe. I ran the Coastal 50k in the Marin Headlands wearing this shoe after owning it for less than a month and it preformed perfectly. One minor point to mention, it is not the most flexible shoe on the market and I blame that on the rock plate. That's ok. You keep your flexibility, I'll take the rock plate. The price point on this shoe is about $110 and well worth it in my opinion. I've found the Saucony's of the past were narrow but of late I am not having that problem with this shoe or the new Kinvara 3. If you have not been in a Saucony for awhile perhaps its time you reconsidered.
Update 2013... I loved this shoe so much I bought a second pair. I was looking forward to trying either a Salomon Sense or an Inov8 Trail Roc but in the shoe store they just did not feel right. Try this shoe. It's a solid all around performance shoe.