What an incredibly well organized event this is. I was really impressed from the expo all the way to the post race amenities. This race has been run for 35 years and the organizers of this race have taken all of the wisdom they have gathered over those years and produced the absolute best race I have ever run. Bay to Breakers has been run 3x longer but doesn't even come close to Napa in terms of runner amenities. The SF Marathon is a hugely popular race and very well run but again, not as good as Napa. Let me explain why I feel this way.
Napa Valley Marathon Race Expo @ The Marriott Hotel
The expo was held at the Napa Marriott, the official hotel of the race. If you booked a discounted room their early enough you could take a bus from the Marriott to the race start in Calistoga thereby avoiding the mass of people and buses that gather at the finish line in the morning to take the runners to the start. I booked my room in early January and that was too late to get a room at that particular location. I had to book a room about 15 minutes south at another Marriott. I tried to get a room in Calistoga near the race start but all Calistoga offers is Bed & Breakfast lodging (read: small) so those were booked solid too. If by chance you do get a room in Calistoga the race directors had transportation back to Calistoga post race if you needed it. Pre-race pasta dinners with guest speakers were held in both cities as well so everybody could make a full race weekend out of it no matter where they stayed. Upon arrival at the expo I saw big signs directing me where to go. I entered the first room and stood in the appropriate line to receive my race bib. The volunteers asked every person once handing them their bib "Do you know where to go next?" If you answered "No." the volunteer explained, "Take your bib next door and choose your bag full of goodies. Then head outside to the courtyard where you can get your race shirt and perhaps do some wine tasting on the patio." No wandering around or confusion. I went next door and had my choice between two different duffel bags or two different back packs. All of the bags were navy blue trimmed in either pink or green and sewn with an NVM logo. These are not the typical shoe bags that cost $1.50 to produce. These were really nice bags. I choose the green back pack. From there I headed across the hallway and outside to the courtyard where I received my race shirt. When I opened the bag to put my shirt in it I found tons of free samples of various products and advertisements for other races. The samples were food and medical in nature and I appreciated that by sitting down and partaking in the treats because it was close to lunch time. I also planned to try the anti chaffing creams they provided the next morning and then the pain relief patches after the race. All usable stuff. Nothing I would immediately discard. Now that the official business was done I went back inside and checked out the vendor booths. It was a mix of races promoting their upcoming events and running gear from manufacturers and local running stores.
Nothing was out of place like a booth promoting solar energy or some other non-running related industry like I have seen at other expos. It never ceases to amaze me when I show up at a race expo and see a vendor booth from Crazy Dons Carpet Barn where runners receive a free in home consultation and are eligible for a free entry into the raffle for a free vacuum cleaner. NVM caters to runners and very few non-running related industries were there to clog up the event.
After looking over the various booths I made my way into another room that was the home of "Marathon College", a series of talks that were running centric. The first presentation was "Secrets of the Napa Valley Marathon." hosted by Rich, the race director and accompanied by four veterans of the event. It was super insightful and helped me formulate a game plan for tomorrows event. The Q & A portion at the end of this talk included the legendary Dick Beardsley (google Duel in the sun) making an appearance as he was the next speaker to give his presentation. One of the panelist's suggested a drive of the course before running it and this gave me a choice. Stay and listen to Dick Beardsley or head out and drive the course. I had some responsibilities to care of this afternoon and could not do both. Time would not allow it. I choose to drive the course figuring I could listen to Mr Beardsley's speech later that night at the pasta dinner in Calistoga if I really wanted to.
The drive up and down the Silverado Trail was just as the presenters had described it, beautiful. They also warned us of the roads camber for the first half and they were correct. I took special note of which mile markers had significant hill sections and formulated my game plan accordingly.
The rest of the day was spent checking into my hotel room, methodically laying out all that I would need in the morning and picking up my wife from a work related lecture series that she was attending all day. By the time I got to where she was and picked her up we were both starving so we headed back to Napa and found a restaurant to solve this problem. We made it back to our room and were asleep by 8pm guaranteeing me 8 hours of sleep. No time for the pasta dinner up in Calistoga with Mr Beardsley and no interest in attending the Napa dinner with a lecture from Joan Bennoit Samuelson (google 1980 Olympic Marathon) on the importance of women in marathoning. No disrespect intended. I just did not feel up to it.
The wake up call came at 4am and I was well rested and ready to hit it hard. We headed out at 4:30 and got to the finish line area where the buses were lined up for a quarter mile to take 2000 plus runners to Calistoga. By 5am we were on the road and my wife was headed back to the hotel to get some more sleep. The buses arrived 45 minutes later in Calistoga and everyone began stretching and striding and lining up at the long row of porto pottys. It was cold at 6am as one would expect and most people had extra layers on up until the last minute. Some people took the advice of the expert panel and wore huge garbage bags that could easily be discarded. The bag you choose at the expo was fitted with a tag that corresponded with your bib number. Just before the race was to begin everyone stripped down to their race gear and turned in their bag for retrieval at the finish line. The race director made it clear that most races will allow elite runners to have special drink bottles placed at whatever aid station they wanted but at this race ALL runners were special so anyone could do this. Many people took advantage and dropped water bottles in the numbered bins so they could have their special drinks at various aid stations along the course.
The race got started right on time. I had positioned myself about 1/3rd of the way back from the start line knowing that the top guys were competing in the RRCA Western Regional Championships meaning they were going out faster than I could possibly run and it's bad etiquette to start too far forward in a race. You make yourself an object that others have to dodge around and that's your ego getting in the way of other peoples race time.
The course starts out flat and begins to climb at about a mile and a half into the race. This climb and the following at two and a half are a couple of the more significant hills in the race. Don't get me wrong these hills are not grinders but compared to the rest of the course they are significant. The sun was peeking out through the morning clouds by mile 5 and it started to warm up which was a welcome change. My pace wavered between 8 & 8:45 with an 8:27 average for almost the entire race. I carried a hand held so I could breeze through most of the aid stations. I think I only slowed for 3 aid stations out of about a dozen. This course offers aid almost every 2 miles or so which is incredible. The aid stations and the volunteers working at them were awesome. As you approached they had people out front telling you to go right for water tables or left for sports drink. This kept things from bunching up for those who did want to slow up and grab a drink and accommodated those of us who did not want lose a step. This can only be pulled off when you have an entire road width to work with. Every aid station also had a small bank of porto pottys too. I used the facilities at the high school before boarding the bus this morning to get to the start line. I used the porto pottys at the start line when the buses arrived but just as the 10 second clock was counted down for the start of the race I felt the urge to go again. I immediately knew I would be running for the next 4 hours holding back the urge. Not fun. I met a guy around mile 5 or so from Arkansas and chatted it up with him off & on for the next 5 or 6 miles. The one feature that defines the first half of the marathon is the twisting and turning that the road does and the fact that the corners are banked. Quite a bit in some instances. This will throw your hips off and make running the tangents a problem for some people. Arkansas and myself both agreed that we appreciated the camber in the road as it helped to spread the work load around the legs. If every step is exactly the same as the last step you will only be working a portion of the muscles in your legs but if your steps are varied (think trail running!!!!) you can spread that load out. We purposely ran the tangents for this very reason but most people did not. For the wide sweeping corners this put them at a serious disadvantage.
Just past the MUM Winery at mile 14 the course straightens out and flattens out for the most part. The next significant feature of this course comes at about 19.5 miles where the road begins to rise again. This too is not super steep but it does go on for a full mile of climbing so it does take a toll on a runner. I approached the hill still holding my 8:27 average and by the time I reached the top I had slowed to 9:30 pace. I flew down the back side of the hill to mile 21 to make up for the hill climb but this took alot out of me. I kept looking at my watch to make sure I was holding my 8:27 average. I really wanted to come in at 3:40 which is possible if you can hold an 8:30 average. I was tired and the urge to stop at a porto potty was driving me crazy. I approacehed the next aid station with every intention of flying on by but their was a lady with a couple water cups standing a good 20 feet beyond the water tables offering the exiters a last minute drink and I stopped and grabbed a cup. I tossed it back and stepped into the porto potty to relieve myself. I thought a quick pit stop might get my mojo back. Within moments I was back out on the course and the full scope of just how bad off I was became apparent. I tried to get moving, tried for 8 minute pace to make up for the pit stop but my legs just could not produce. I could get up to a decent speed and try to hold it but when I checked my watch it would be 8:45 or 9 minute. I was coincedentally running through a section of the course that was absolutely flat and straight. The road between mile 23 & 25 seemed to go on and on and on with no end in sight. My pace suffered and I had to do the most "self talking" I had ever done. I had to keep telling myself "it's was almost over", "anybody can hang on for a mile or two" "dont stop, dont stop, dont stop". I convinced myself that no matter what, I would not stop again. The last stop nearly killed my race and one more stop will probably ruin me. As I neared the end of the race I was in bad shape. My pace was closer to 10 minutes and I had no control over that. Two different people tried to speak to me but I could barely respond.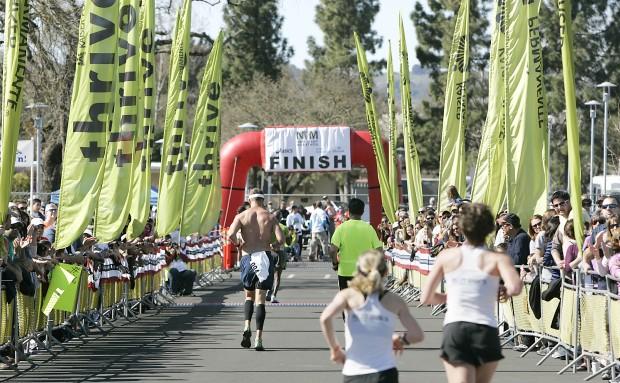 The last half mile is run through a neighborhood and the residents were all out cheering us on. That helped propel me forward to the high school parking lot finish line. The approach was lined with cheering people. I caught a glimpse of my wife. I heard the announcer call my name over the P.A. system and in an instant it was over. 3:46:30 was my finish time, a new PR for me!!! I had a volunteer pointing me left telling me to get my medal. I ducked down as she slipped it over my neck. I was then told to head over here which meant stepping up a curb. I wobbled a bit and with reflexes like a ninja the lady was grabbing my arm as if I was about to topple over (which I wasn't). She started guiding me around and handing me water all the while holding my arm to make sure I wouldnt fall over. I tried to tell her I was fine but she said you can never be too careful and continued trying to nurse me. I let this go on because I did not have the ability or energy to protest. Co-workers of hers were telling her to take me to the massage tables and take me to the soup line and she ended up taking me to the picture banner. I stood in front of the finishers banner, got my picture took and with that the nursing was over. She said "The exit is that way." pointing left and I thought "Okay, where is my wife?". I stepped out of this area and there she was. Happy and joyful and proud all at once. We headed over to the school cafeteria where they were serving hot soup and sourdough bread. I grabbed a cup and headed over to the massage tables. We ate the soup while waiting for my bib number to be called. After the free 10 minute massage I retrieved the backpack that contained my warm up clothes and headed for the mens locker room for a shower. The water was just barely above freezing so I wet my hair and got dressed. Clean clothes over a dirty body will have to suffice for the time being. I walked outside, found Mary and headed home.
I now have the task of recovering quickly because this coming Saturday is the Way Too Cool 50k in Auburn. It was an unfortunate timing problem that booked these two races back to back but with any luck I should pull through just fine. We shall see.
See you in the Sierra's
Jonathan