This route takes you through 3 of my favorite parks.
Edgewood
,
Huddart
&
Wunderlich
all in the Redwood City & Woodside area of the mid-peninsula. The run starts at Edgewood County Park just off HWY 280 on Edgewood Rd. Take the trail named after the park up and over the big hill. You will cross a few trails but stay the course until you see a sign pointing Edgewood trail to the right. Here is where you have a choice. Take the right, follow it down to and across Canada Rd where you will join up with Crystal Springs trail which will dump out onto Raymundo Dr. or stay left on the Service Rd as it is now reffered to until you come to Clarkia Trail which will dump you out on Canada Rd. You will need to go left until you get to Runnymede Rd on your right and follow that until it turns into Raymundo Dr. Either choice takes you to the same place. I prefer to take the right but the risk is that when you get to Crystal Springs Trail in this area it may be closed off due to construction. If so just stay on Canada Rd, run past the Clarkia Trail entrance on your left until you get to Runnymede Rd on your right.
Entrance to Huddart Park off Raymundo Dr.
At the dead end of Raymundo Dr. you will see an entrance into Huddart Park. Follow that down to the bottom where it becomes Crystal Springs Trail. Stay on Crystal Springs Trail. You will cross many trails and be given many choices. To avoid confusion always take the uphill choice and you will eventualy make it to the top of Huddart Park's boundary which is Skyline Rd (Hwy 35). On your way up around mile 7.5 you will pass through the Toyon Day Camp area where you could refill a water bottle of use the restroom.
At the top you want to follow Summit Springs Trail and Skyline trail to the left for about a mile until you see Chinaquapin Trail on your left. Do not go left but instead look for the continuation of Skyline Trail to your right. Its obscured a little and if you run past it moving straight forward you will be on the Archery Fire Rd and you dont want that. Making that right turn onto Skyline Trail you will run for just a minute or two and be dumped out onto Kings Mountain Rd.

Visit Newton Running to learn more about how to improve your running. Great articles about natural running
Crossing the street you will be entering the only public trail in the Teague Hill Open Space Preserve and it lasts for about a mile where you will unceremoniously exit Teague Hill and enter private land that is managed by Cal Water, I think. This trail stretching between Huddart and Wunderlich Park is the Bay Area Ridge Trail. So named because eventually it will circumnavigate the entire Bay Area but at this point is incredibly segmented and unrunnable. Take note that this is a rolling stretch that has some decent climbs but none of its unrunnable. You really only have this one trail to choose from so no need to worry about getting lost. Eventually the trail will dump out at almost the 15 mile mark on to a private road called Bear Gulch Rd.
Crossing the street you will be entering Wunderlich County Park. Turn left onto Alambique trail and follow it mostly downhill for 4.5 miles or so until you get to the parking lot of Wunderlich Park. This is your next chance to use a restroom or refill a water bottle.
Exit the park onto Woodside Rd and follow that until you get to the corner of Canada Rd and Woodside. Be careful on this road as it is narrow and filled with cars and motorcycles that love to test its curves. When you get to Canada Rd at about mile 23 you will find Roberts Market, an excellent place to grab a cold bottle of water or a protein bar.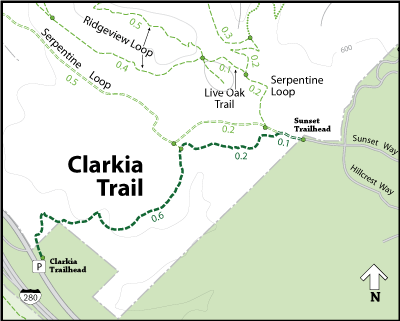 Clarkia Trail in Edgewood Couty Park
Turn left onto Canada Rd and run it all the way back to the Clarkia Trail entrance to Edgewood Park which will be on your right. This entrance if you are not familiar can be a bit obscured. I drove down this road for years not knowing a trail entrance was there. Clarkia trail is a climb back up the hill of Edgewood Park. At about mile 25 you will be climbing up on the Service Rd which will complete your hill climbing for the most part. Turn left onto the Serpentine Loop Trail and follow it until it forks. Take the right fork, Sylvan Loop Trail will take you almost down to the parking lot. It does turn left and head back up into the park so be aware that at the end of the run you should stay to the right and follow Sylvan Way Trail down the last stretch to the parking lot where you will find drinking fountains and restrooms.